Go:ver Training Ltd
Privacy Policy
To enable Go:ver Training Ltd. to carry out our business we need to hold and process certain personal information about you. This Privacy Notice tells you what information we collect, why we collect it, what we do with it, and with whom we share it. We collect and handle personal information to enable us to run our gym for the benefit of our gym users. We take the responsibility of looking after your data seriously and are committed to protecting your privacy. Go:ver Training Ltd. does not share any personal information with any third parties apart from those listed below. Go:ver Gym does not rent, sell, disclose or distribute your information to any outside marketing companies.
How we obtain our data
We obtain personal data directly from our clients and members by means of a written form or by the client or member entering their details on to our business management software. Bank details for direct debits are entered directly onto our direct debit provider's software, once submitted this can no longer be viewed by Go:ver Training Ltd. We also create data about you by our cctv monitoring, photographic image, gym usage, classes you subscribe to, your appointments, purchases and details of your membership.
Personal data
The information we collect from our clients is essential for the operation of the services we provide for our gym users. We must have a lawful basis for collecting personal data.
In the tables below we have listed the data we collect and the lawful basis under which it has been collected.
1. Data collected under: Contract: the processing is necessary for the contract we have with the individual, or because they have asked you to take specific steps before entering into a contract.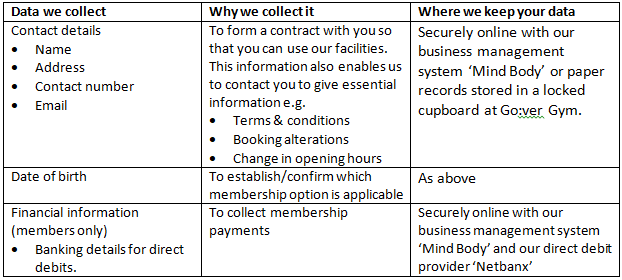 2. Data collected under: Legitimate interests: the processing is necessary for our legitimate business interests or the legitimate interests of a third party


3. Data collected under: Vital interests: the processing is necessary to protect someone's life.


Who we share your data with:


Your rights
Under the new GDPR law, you have the following data protection rights:
The right to be informed

Why and how your personal data is being processed

The right of access

Find out the information that is held on you

The right to rectification

Have your information corrected if you believe it is factually incorrect

The right to erasure

Depending on the circumstance, you can have your personal data removed

The right to restriction of processing

In certain circumstances, you may have a right to stop your personal data being processed

The right to data portability

Get hold of and re-use your personal data for your own benefit

The right to object

Object to the processing of your personal data
You can request the information we hold either by contacting us by email: reception@govergym.co.uk or by logging into your account and changing your personal data yourself; details of how to log into your account are explained below. Go:ver Training Ltd reserve the right to keep certain records for up to 7 years (including but not exclusive of; financial records, a record of your visit/scheduling history and liability waiver). In this case please contact us for assistance.
Your account
Go:ver Training Ltd uses an external online booking software, mind body online (MBO), to process and safely store your data. You can edit the data that we hold for you by logging into your account via https://clients.mindbodyonline.com. Once logged in navigate to 'my info' and there you can update your personal information, your billing information and your email preferences. Should you need assistance with logging in or updating your information please contact us via email: reception@govergym.co.uk or visit the mind body help site: https://support.mindbodyonline.com/s/article/How-to-subscribe-or-unsubscribe?language=en_US#mbo_site
Contact preferences
Email is our primary method of communication with you. There are two types of email communication that we make.
Essential communication - including class and appointment booking confirmations, waitlist confirmations, changes to your booking. You can opt in/out of these emails in the 'my account' section of your profile (although we highly recommend opting in to these).
Newsletter and promotions - including information about timetable changes, new classes, courses, and other updates and offers. You can subscribe to these in the 'my account' section of your profile.
Phone is our secondary method of communication. We use this to contact you if last minute changes to your booking have to be made for example if a teacher is ill and no replacement can be found at short notice.
The ICO/Complaints
Go:ver Training Ltd will make every effort to the best of our ability to handle your data correctly under the new GDPR laws. Unfortunately sometimes things go wrong so complaints may arise. If you have any concerns or complaints regarding how we handle your data please contact Claire Gover at: reception@govergym.co.uk where we will try to resolve the complaint as quick as possible in house.
Alternatively you have the right to lodge a complaint with the Supervisory Authority: www.ico.org.uk. Information Commissioner, Information Commissioner's Office, Wycliffe House, Water Lane, Wilmslow, Cheshire, SK9 5AF.
Cookies
Like most other websites, during the course of any visit to any Go:ver Training Ltd websites, we use small files which are stored on your hard drive by our browser ("cookies") to monitor your use of the website. Google's Remarketing feature uses Cookies to serve relevant messages based on someone's past visits to our website. Information about how you can opt out of Google's use of cookies can be found by visiting the Network Advertising Initiative opt out Page.
Changes
We may update this privacy policy from time to time in order to reflect, for example, changes to our practices or for other operational, legal or regulatory reasons. Any changes will be posted on this page so that you are always aware of what information we collect, how we use it, and under what circumstances we disclose it. It is your sole responsibility to check this website from time to time to view any such changes to the terms of this Privacy Policy.