Classes
NEW CLASS ADDED!
Tuesdays 08.30 - 09.30 PILATES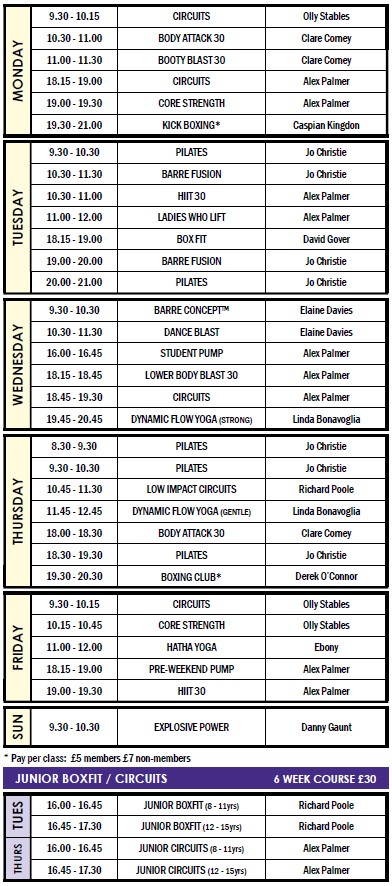 PRICES & BOOKING
Members
FREE (except technical classes* which have a £5 supplement fee)
Can book 1 week in advance
Non-Members
30 min - £5
45 min plus - £7 per class
Can book 2 days in advance
CLASS DESCRIPTIONS
BARRE CONCEPT NEW!
A fusion of fundamental ballet techniques, core stability & fi tness training wrapped up in a motivational package that will give you a pliable strength & a feeling of well-being that will make you want to keep coming back for more!
BARRE FUSION NEW!
An upbeat fusion of ballet, Pilates, flexibility training and core conditioning. Simple to follow and no previous experience required.
BODY ATTACK 30 NEW!
A 30 minute high-energy class combining athletic movements such as running, lunging and jumping, with strength exercises such as push-ups and squats.
BOOTY BLAST 30 NEW!
Tone & lift your glutes! This workout will have your glute and thigh muscles screaming!
BOXFIT
No previous experience is required for this class, turn up, learn new skills and get sweaty! This class teaches the fundamental techniques and skills of boxing. These include footwork, striking, head movement and blocking. The class is tough and run at a fast tempo, boxing is incredible fun and absolutely exhausting!
BOXING CLUB
This is a club for people who want to take their boxing further. Wraps, gum-shields and gloves are required. The sessions contain shadow boxing, skipping, bag work, contact drills and controlled sparing. Discipline and endeavour are both expected and rewarded!
CIRCUITS
Fast paced session that uses a huge variety exercises in a circuit format to fast track you to your fi tness goals. As every exercise can be regressed or progressed to suit the individuals fi tness level this class is accessible to everyone; this means you! It's a great fun group environment added to by the limitless energy injected by the coaching team. Expect loud music, sweat and high fi ves.
CORE STRENGTH
Core strength is a 30 minute ab blast class. Full focus on the abdominal area. If you are looking at strengthening the core, tightening up the stomach and toning up the tummy, this is the class for you. For all ages and abilities.
DANCE BLAST NEW!
Dance Blast is a fun & motivating dance-inspired workout that will increase stamina, improve co-ordination, strengthen & tone the legs & target the abdominal area with innovative fl oor exercises. What's not to love?
EXPLOSIVE POWER NEW!
HIIT, resistance, calisthenics, core, combat, explosive strength exercise class. The only workout you'll need!!!
HIIT 30 NEW!
If you haven't tried HIIT by now, discover why high-intensity interval training can burn more fat in less time.
KICK BOXING NEW!
A 6 week introductory course designed to teach you the basics of K1 kickboxing. Taking inspiration from kickboxing, boxing, muay thai, traditional martial arts and freestyle fighting, you will learn a variety of techniques used in K1. Gum-shields are required
LADIES WHO LIFT
It's time to embrace the barbell! If being strong wasn't awesome enough on it's own, here are a few other reasons to attend this friendly, fun session: The following health markers are improved by lifting heavy stuff; osteoporosis, resting blood pressure, cardiac health and stress. The session, (run by the irrepressible Alex Palmer) is safe, fun, educational and designed for all abilities.
LOWER BODY BLAST NEW!
Looking for a killer circuit that will tone your glutes, legs and thighs? This 30 minute lower body blast workout will get your heart rate up and leave your legs burning.
LOW IMPACT CIRCUITS
All the fun and benefi ts of circuits with extra sympathy for your joints! The class whilst no walk in the park is for all abilities, everyone is encouraged to work at their own pace. It is perfect for people who are starting their training adventure, getting back into training have specifi c injuries that high impact exercises would exacerbate. Great fun and friendly, come along!
PILATES
Mat based classes concentrating on the old and new Pilates principles of Breathing, Centering, Concentration, Control, Flow, Precision, Awareness, Stamina and Relaxation - aka "Grace and Purpose".
PRE-WEEKEND PUMP
WANNA GET SWOLE FOR THE WEEKEND?! Then this is the class for you! start the weekend right while Alex pumps up the atmosphere in this Circuit based class using solely free weights which means "SAY NO TO CARDIO!" All Fitness levels welcome!
STUDENT PUMP
Specifi cally for 15-18 years of age. Don't allow bad habits to start, get your training off on the right foot. Learn correct lifting technique, appropriate warm ups and cool downs in this high tempo class.
YOGA (DYNAMIC FLOW)
Wed 7.45pm Strong, challenging dynamic yoga. We will also explore new smart, functional ways to move our bodies: locomotion, animal fl ow and pole work. A typical class will include dynamic yoga sequences, shoulder and hip openers, hand and arm balancing poses, core work and backbending. No previous yoga experience necessary, though a fairly good fi tness level is required.
Thur 11.45am Gentle dynamic yoga, predominantly seated positions. We will be exploring new ways to move our body with a gentler approach, leaving class feeling energised, stretched and relaxed. Some classes may be themed (shoulders, hips, backbends).
YOGA (HATHA) NEW!
A yoga practice focusing on building a strong yogic foundation, slow fl owing and holding postures (asanas) using breath to establish alignment, gain strength, balance and increase fl exibility, Suitable for all levels.